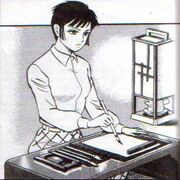 Teito Jokishaden Sharaku (帝都女記者伝 写・らく) or simply Sharaku is a japanese historical fiction manga created by Go Nagai & Dynamic Pro. It follows the adventures of the female press reporter Sharaku, who is a witness of the changes between the end of the Edo era and the beginning of the Meiji era. Her name, Sharaku, is a reference to Toshusai Sharaku, a famous Japanese woodblock printer.
Manga information
Edit
Title: Teito Jokishaden Sharaku (帝都女記者伝 写・らく)
Original run: 2001-04-12, 2001-05-31, 2001-07-19, 2001-08-16, 2001-10-18, 2001-11-29, 2002-01-02·10
Original magazine/publication: Weekly Morning (週刊モーニング)
Original publisher: Kodansha (講談社)
Tankonbon
Edit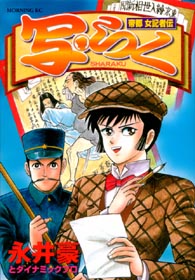 Tankonbon number: 1
Date: 2002-01-23
Publication's line: Morning KC
Publisher: Kodansha
ISBN-10: 4063287971
ISBN-13: 978-4063287974
Additional information
Edit
The Tankonbon does not include the 34 special pages of the Tobirae Gallery published in 2002-01-02·10 (Weekly Morning 2002 #2·3), Naniwa - Kanjo no "Koi" (『浪速』艦上の"恋").