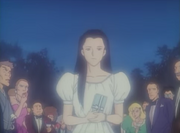 The Major Protagonist from Iron Virgin Jun who was an Aunt of Jun Asuka and Younger sister of Her Unnamed Elder Sister. Maki " Fuzuki " Asuka resigns to Her races after Her mother, Mei Asuka dies in Her old age.
In the Dub she was voiced by Cindy Roberts who was Child Loof in Genma Wars: Eve of Mythology.
Personality
Edit
Manga
In Her 1st place, She had been bifauxnen and greedy to affiliates Her sister's races before quits to Her. She might be Rapist and Kidnapper to make Jun Asuka one of Her races.
Ova
After quits to Her sister, She was an Animal Lover and Nature Kindness to helps Jun Asuka to frees Her races. She likes to be all alone by Herself so she can be stronger as well.
Synopsis
Edit
Manga
After Jun defeats Her mother for the 1st time with Kurata Ohnami, She shows up but Her car crashes. She introduces Herself as Auntie Fuzuki with Her bodyguards. The Asuka Family eats lunch but She was frustrated to speak what's Her life's.
She tries to seduces Her own niece, but She kicks in a Water with Daiba where Her mother is under a Water. To reveals Her deeds, Maki brings Jun and Kurata in a Jungle. To rapes Bodyguards, Amenhotep saves Jun and Daiba from Her aunt and attacks to retreats.
OVA
After Jun Asuka's mother disciples Maids for defeating Waiters, Fuzuki reunites the tribes of Her Asuka family. She goes wild and spanks Making over everyone and flees. Before Kaidomaru begins, Making Fuzuki reunites and speaks with Jun Asuka and Kurata Ohnami about Her mother and Her deeds. After She retreats the Fog, Kaido shows up and Begins.
Community content is available under
CC-BY-SA
unless otherwise noted.