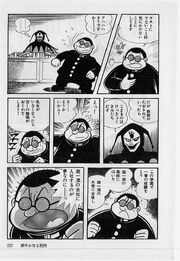 This guy is a fata55 nerd only into studying. He don't care about anything else. His name is a play on the onpmatopia of studying too hard and f ing ur health or something.
So hes studying and Kekko kamen f;s up a teacher but he don't notice. He is told he'd get a good school thing if he caught Kekko Kaman and harassed Mayumi Takahashi. Kekko kamen showed up and showed him theres more important things than studying (like curvy nude women). and then... he died... ahhhhhhhhhhhh!! as his heard couldn't take it from oly being used to studying and being a fat F.
In Kekko Kamen OVA 1 he is in a crown During Gestapokos fight with Kekko Kamen, she lands on his head Who (as in the manga) doesn't pay any attention to anything besides studying(including a sexy fight of a SM babe vs a naked chick))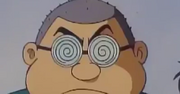 Community content is available under
CC-BY-SA
unless otherwise noted.