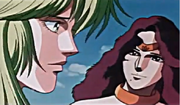 Emi is an anime only character from Violence Jack Evil Town. She was a former fashion model and a followersof Aila Mu.
Emi was one of many models that were trapped in stuck in Evil Town after the quake. She joined Section A to for protection from Section B. Like many of the models, she was drugged by the men from Section A. Emi awoke from the drug induced sleep, to find herself being violated by three men, who ingnored her pleas.
After the rape, Emi joined Aila Mu and several other models to form Section C where they survived until Section A dug up Violence Jack. During Section A's meeting with Section B, Emi and the other models showed up and pleaded Jack to help them, explaining the horrible experience they face. Their words caused the giant to switch to their side.
After Jack broke a hole through the underground prison, Section B attacked Section A and then moved on to Section C. Emi escaped from the area however just before the models reach the outside, the thugs from Section B come and attack them. Emi is caught by Tom Cat, who rips off her shirt and begins suckling her breasts, stripping her and later engaging in cunnilingus. She is saved by Jack who proceeds to tear the rapist in half and all her guts spill out like sauerkraut.
Community content is available under
CC-BY-SA
unless otherwise noted.